The Requirements
To be a good fit for this opportunity you will have:
A bachelor's degree in finance, accounting or a related field.
5+ years of relevant work experience.
Knowledge of and experience with corporate cash management products & services, and a strong understanding of GAAP.
An understanding of the processes of U.S. financial institutions.
A general understanding of the financial markets.
Experience working with treasury workstations and web-based banking systems.
The ability to be a self-starter, to work independently and resolve issues with little direction and oversight, but also to be a team player when needed.
A strong detail orientation, with strong organization and time management skills and the ability to perform well in a fast-paced environment.
Excellent written, verbal, and interpersonal communication skills to interact with all levels of management inside the company as well as to manage external relationships.
An advanced level of skill with Microsoft Excel, Word, and Access. Quick question for you - click here
The ability and willingness to travel occasionally for industry conferences.
Preferred but not required:
An understanding of the processes of global financial institutions.
Experience with Bloomberg.
A CTP credential is highly desirable.
The Role
Reporting to the Treasury Manager and collaborating with analyst peers around the globe, you will spend most of your time working in our Treasury Management System (Kyriba) to assist with forecasting efforts, update the debt portfolio, manage cash, compile research, and many more treasury-related duties.
There will be a lot of variety and opportunity for you to work cross-functionally as a good part of your time will be spent responding to inquiries from departments such as Legal, Tax Accounting, Portfolio Management, and more. You will also spend time on bank relationship management, so you'll need to be comfortable and professional when speaking with banks and lenders.
Your specific responsibilities will be broken into these main categories:
Managing the daily cash process, including determining daily cash position for domestic cash books and acting as backup for international; reviewing cash transactions for accuracy; monitoring and maintaining appropriate working capital; compiling and distributing cash reports; providing data support for journal entries relating to cash management; and more. Quick question for you - click here
Debt servicing, including ensuring timely settlement of financial obligations; managing reserve accounts; working with lenders to ensure correct impounds; maintaining debt and derivative schedules and related interest statements; and more.
Bank accounts, administration, and relationship management, including maintaining accounts and documentation; maintaining positive working relationships with lenders, servicers, and cash management banks; and more.
Payments, including ensuring corporate obligations are met; making necessary deposits by deadline; ensuring proper corporate credit card usage and settlement; and more.
Reporting and analysis, including reviewing reports for accuracy; preparing balance statements; assisting with forecasting; making recommendations for structure, service, and process improvements; and more.
Note: this description is intended to give you a general overview of the position and is not an exhaustive listing of duties and responsibilities.
Why Digital Realty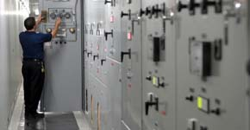 Broad exposure and impact
-- this is a Senior Analyst role within the organization, which will provide you with some visibility, and you will add value to our organization through your forecasting efforts, which will be seen by the CFO. Our finance team has maintained a solid balance sheet, which has contributed greatly to the strength of the company. You will be helping to manage a $1.5B multi-currency, global revolving credit facility and a substantial debt portfolio, with over 250 bank accounts and lock boxes across the globe. You'll enjoy the satisfaction that comes with knowing your efforts positively impact company growth and your professional career.
The "best of both worlds" --
you'll find that working for our company may be a little bit different. We are small enough, with over 500 employees worldwide, that your hard work will be visible throughout the organization, yet our extensive portfolio of services and solutions and proven track record of growth, stability and industry-leading innovation give you the resources and tools you need to take your career to the next level.
Unique culture
-- we are a collaborative, people-focused company dedicated to quality and continuous improvement. When you become a member of our team, you receive our commitment to your continued development and support.
Green standard for sustainability
– we are committed to improving the performance and energy efficiency of our data centers through the creation, adoption and promotion of industry-leading best data center practices and experience. We are pioneers in thinking about green data centers, as well as, adopting and building to LEED and BREEAM certification requirements. We are also a Contributing Member of The Green Grid.
Strong foundation
-- our financial strength and stability provide our customers with the assurance that Digital Realty will be their data center partner for current data center needs and those in the future, and our investment credit ratings provide us access to paths for more capital. We view each of our customers as a long-term partner. At Digital Realty the success of your business is our business.
Excellent compensation
-- in addition to a competitive salary, we offer a comprehensive benefits package.
Keys to Success
This Senior Analyst role was created in order to bring in someone with strong experience who can work independently to complete necessary tasks that support our rapid expansion. To be successful, you will need to already have the skill-set to be able to hit the ground running when you come in to the role. This includes a strong treasury background and good technical skills, but also less tangible skills such as common sense and a great attitude.

The right fit for this role could be described as a "go-getter." You will need to arrive ready to start your day, connecting with peers and business partners across the country and around the world who may already be well into their work day. You'll need to manage deadlines carefully so that expectations are met. To make this work well, you'll also need to have a positive attitude.

We are a growing company, and everyone here is tasked with managing multiple priorities. To excel in this role you'll need to be detail oriented, striving for perfection, and driven to get things done. We are looking for someone who is bright, able and willing to learn, who has a passion for treasury, and who is looking to build a career here.
About Digital Realty
Since the Company's initial public offering in November 2004, Digital Realty, Inc. has been a fast-growing leader in the design, development and operation of data centers worldwide. We focus on delivering customer driven data center solutions by providing secure, reliable and cost effective facilities that meet each customer's unique data center needs. Our customers include leading media, financial services, communications and technology-based businesses. Our portfolio is located in 32 markets around the world and consists of more than 100 properties, totaling over 21 million square feet.

Digital Realty's portfolio is located in more than 30 markets across nine countries throughout North America, Europe. Singapore and Australia. Our global presence is supported by local experts in the markets we serve. And we stand out in the marketplace by offering innovative solutions driven by customers who see data centers not just as a technical investment, but as a strategic platform for success.

Digital Realty is a publicly traded company (NYSE: DLR) with investment grade ratings from all three major ratings agencies.