The Requirements
To be a good fit for this opportunity you will have:
A bachelor's degree.
Related experience in legal, lease administration, property management, real estate investment trust, document management, statistics, and/or finance and accounting.
The ability to:

Comprehend, analyze, and interpret complex business documents, lease documents, and detailed budget summaries.
Project manage effectively.
Write lease interpretations in lease note form.
Effectively respond, verbally or written, to sensitive issues, complex inquiries or complaints.
Make effective presentations and respond to questions from groups of managers, clients, customers and the general public.
Calculate intermediate figures and conduct basic financial analysis.
Analyze and solve problems involving several options with limited information.
Interpret a variety of instructions furnished in written, oral, diagram or schedule form and to work independently.
Work well under pressure with a proactive approach to unusual occurrences.

A high level of commitment to customer service, whether co-workers or clients.
Knowledge of financial terms and principles.
Intermediate analytical and quantitative skills.
Good organizational skills, attention to detail and openness to new ideas and procedures.
Advanced experience with MS Office software.
Attention to detail and flexibility.
Preferred but not required:
Knowledge of lease terms and principles.
Familiarity with Salesforce.com and Yardi. Quick question for you - click here
Experience working for a publicly traded company.
The ability to understand differentiation between business issues versus legal issues in lease negotiations.
The Role
Reporting to the Manager, Lease Administration, as the Lease Analyst you will monitor and maintain lease data and ensure accurate lease administration through direct interaction with sales staff, asset managers, portfolio managers, accounting staff, and third parties. Your activities will focus on two key areas:
Lease statistics and reporting
Document management
Working closely with your Manager and the Assistant Lease Coordinator, you'll take point on a variety of responsibilities and will also fill in for your supervisor when she is out. Our department handles leases for the entire company, including our three domestic regions and international. It's safe to say that no two days will ever be the same and you'll never be idle in our fast-paced, rapidly changing environment. You'll input lease metrics into the system (we use Salesforce as our front-end system which feeds to the BI), while also coordinating, maintaining and managing scanned leases/amendments/etc. online in the shared file system as well as in the paper version.
More specifically, you will:
Prepare draft lease documents based on standard lease forms.
Prepare and distribute monthly lease tracking reports and monthly lease renewal/expiration/termination reports.
Review abstract lease documents as prepared by property management.
Route lease abstract documents and other reports for approvals when necessary.
Review lease profiles from the accounting system (Yardi) and verify accuracy.
Ensure copies of Yardi lease profiles are filed in each tenant's lease file.
Prepare "issues list" for new assignments and lease documents to support technical operations, property management and portfolio management.
Manage reporting timelines in order to meet critical dates.
Assist/advise portfolio management, property management and technical operations on lease language and interpretation.
Work with portfolio management and accounting on new property set-ups.
Work with portfolio management to implement the company's lease administration and lease implementation procedures.
Coordinate, review and process lease drafts until execution between customers, attorneys, sales staff, and portfolio management.
Why Digital Realty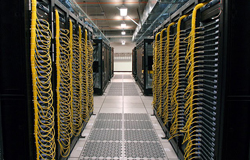 Strategic impact
-- our department is the sole entity responsible for reviewing lease documents, so your impact will be noticed. You'll play a key role on a small team and your interaction with many internal departments throughout the organization will provide excellent exposure and visibility. If you're the person we're looking for, you enjoy rising to a challenge and going above and beyond what is required of you.
Professional development
-- while you'll need strong interpersonal and analytical walking through the door, you can expect to enhance it with what you learn in this role. For example, if you don't already have global experience, you'll acquire it. We are committed to helping our people grow professionally, including providing training opportunities.
Career options
-- as we continue to grow, we probably will need to expand the team. Depending on your aptitude and ambition, you might be in a position to take on a leadership role or a more senior position within the team.
Stable profile
-- our uncommonly strong balance sheet, investment-grade debt ratings and the ability to borrow in multiple currencies provide a global footprint for our customers and risk-reducing diversification for us. That puts us in an excellent position to grow the company, provide financing options for our customers, and continually invest in our properties.
Green standard for sustainability
-- we are committed to improving the performance and energy efficiency of our data centers through the creation, adoption and promotion of industry-leading best data center practices (pictured). Not only do we build to LEED and BREEAM certification requirements, but we also are pioneers in thinking about green data centers, including being a contributing member of The Green Grid.
Excellent compensation
-- in addition to a competitive salary and bonus incentive program, we offer a comprehensive benefits package that includes medical, dental and vision plans; flexible spending plans for multiple purposes; a health savings account; a 401(k) plan with company match and much more.
Keys to Success
To excel in this role you will bring a strong foundation of analytical skills for your reporting and statistical duties.
Quick question for you - click here

On the other hand, just as important as your technical skills will be your willingness to manage a variety of other activities including document management. We're looking for someone who is eager to learn and take on new responsibilities as the role and the company continues to grow.
We've said it before but it bears repeating: this is a fast-paced environment where things move quickly and some weeks will be more unpredictable than others. For example, we are a very quarterly oriented group, and the end of each quarter can get a bit chaotic. You'll leverage your strong prioritization and multi-tasking skills to serve as a contributing member of the team during our busier times.
Additionally, to be an outstanding Lease Analyst you will have excellent communication, interpersonal and relationship building skills as you partner with the majority of Digital's internal departments and leadership—both domestically and abroad.
About Us
Since the company's initial public offering in November 2004, Digital Realty has been a fast-growing leader in the design, development and operation of data centers worldwide. We focus on delivering customer driven data center solutions by providing secure, reliable and cost effective facilities that meet each customer's unique data center needs.
More than 10% of Fortune's Global 200 companies rely on Digital Realty to provide solutions for their data center requirements. Our customers include domestic and international companies across multiple industry verticals ranging from leading media, financial services and communications companies to technology-based businesses.
Digital Realty's portfolio is located in more than 30 markets across nine countries throughout North America, Europe, Singapore and Australia. Our global presence is supported by local experts in the markets we serve. We stand out in the marketplace by offering innovative solutions driven by customers who see data centers not just as a technical investment, but also as a strategic platform for success.
Digital Realty is a publicly traded company (NYSE: DLR) with investment grade ratings from all three major ratings agencies.