The Requriements
The ideal candidate for this role will be a motivated and enthusiastic professional with some related experience, or a recent graduate with applicable internship experience. Additionally, to be a good fit for this opportunity you will have:
A Bachelor's degree in Finance, Accounting, Business or a similar field.
2+ years of experience in a financial analyst or operations analyst role, or applicable internship or professional experience. Quick question for you - click here
Experience with real estate management is strongly preferred, and experience with data center operations is a plus.
Strong analytical skills and systems savvy, and the ability to create:

Financial reports and analyses, including expense analyses, rates of return on investment property, budgeting, forecasting, etc.
Operational performance reports and analyses, including up-time statistics, trends in incidents and other events, etc.
Summary reports that combine financial and operational analyses into meaningful executive summaries.

Expert proficiency with Microsoft products, especially Excel and PowerPoint.
The ability to think strategically, to work with data and numbers, and to provide thoughtful, detailed analysis.
Familiarity with Argus and/or Yardi is a plus.
Just as important as your experience and skills will be the following characteristics and competencies:
The ability to:

Achieve goals independently and also contribute to teams
Leverage organizational skills to multitask and manage projects to keep teams on track with deliverables in a high-pressure setting.
Work in a fast-paced environment with a strong sense of urgency, and to turn in quality work quickly, under strict time constraints.

A team player mentality and strong learning acumen.
Excellent written and oral communication skills, and great presentation abilities.
Flexibility and the desire to go above and beyond what is required of you.
In general you won't travel much, although you may spend about two weeks in Boston, as you get up to speed, working alongside and learning from Senior Analysts.
The Role
Reporting directly to the Vice President, Property Operations, you will join a team of 12 to 15 operations professionals in the Los Angeles office. In addition you will interact with Analysts and others in locations around the world.
As Portfolio Analyst - Operations, you will be responsible for the preparation and validation of financial and operational performance reports, consolidation and analysis of budgets and forecasts, and investment return modeling to support financial and operational business decisions. You will be charged with consolidating information and relaying it back to the Operations Management team who oversee 100+ properties throughout the U.S., Europe, Asia and Australia.
Between quarters, you'll spend the majority of your time working with Operations Management on performance analysis, incident analysis and tracking various financial and operational performance metrics. At the end of the quarter, you will focus your efforts on analyzing and developing reports and dashboards highlighting financial and operational performance versus defined performance goals. In addition, you may be asked to support financial variance analysis, capital planning and other ad hoc data analysis as required.
More specifically, you will:
Coordinate and support the preparation and consolidation of annual budgets, quarterly forecasts and variance reports, and complete other financial analysis and reporting as required.
Create and maintain organized and efficient databases and data collection processes in order to support preparation of monthly, quarterly or annual performance reports against defined performance targets and KPIs.
Track and analyze various operational expense metrics and prepare real-time operational reports to support budgeting and operational modeling on a per unit cost-basis.
Track, analyze and report system availability statistics and operational incidents, including, but not limited to, tracking component malfunctions, design issues and system mis-operation events.
Prepare investment analysis and business plans to support critical business decisions and strategic portfolio-wide initiatives.
Prepare and analyze various portfolio inventory reports, including equipment inventory, power usage statistics and space utilization. Quick question for you - click here
Identify and drive report automation opportunities by evaluating existing and new systems.
Manage ad-hoc requests and effectively prioritize work based on operational value.
Pictured: you'll work in our regional office located in downtown Los Angeles. This building also houses a state-of-the-art 489,722 square-foot mission critical datacenter and telecommunications facility.
Why Digital Realty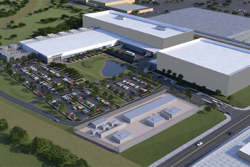 Make your mark
-- you will develop the systems and processes that enable us to take advantage of a tremendous amount of data, transforming it into valuable insights for key business decisions, marketing and industry benchmarking. You'll have exposure to a variety of departments and key contacts within Digital Realty, and your successes will be visible at multiple levels.
The "best of both worlds"
-- you'll find that working for our company may be a little bit different. We are small enough, with over 800 employees worldwide, that your hard work will be visible throughout the organization, yet our extensive portfolio of services and solutions and proven track record of growth, stability and industry-leading innovation give you the resources and tools you need to take your career to the next level.
Unique culture
-- we are a collaborative, people-focused company dedicated to quality and continuous improvement. When you become a member of our team, you receive our commitment to your continued development and support.
Strong foundation
-- our financial strength and stability provide our customers with the assurance that Digital Realty will be their partner for current data center needs and those in the future, and our investment credit ratings provide us access to paths for more capital. We view each of our customers as a long-term partner. At Digital Realty the success of our customers' businesses is our business.
Green standard for sustainability
-- we are committed to improving the performance and energy efficiency of our data centers through the creation, adoption and promotion of industry-leading best data center practices and experience. We are pioneers in thinking about green data centers, as well as, adopting and building to LEED and BREEAM certification requirements. We are also a Contributing Member of The Green Grid.
Excellent compensation
-- in addition to a competitive salary and bonus opportunity, we offer a comprehensive benefits package.
Pictured: each of our data centers is a unique property. For example, while the Los Angeles DC is in a classic art deco building dating from 1922, many are greenfield developments, such as Digital Chicago, in Franklin Park, Illinois. We are continuing to develop this 23-acre site.
Keys to Success
If you have an entrepreneurial spirit and are eager to make contributions that will benefit your team, the company and your career, then this could be the ideal role for you.

To excel in this role, you will need to have strong communication and interpersonal skills and the ability to effectively work with individuals at all levels across the organization and at different locations. Collaboration is key here, and you'll call on your organizational agility to successfully coordinate with different stakeholders and departments across multiple time zones. You'll need to be able to manage numerous assignments, identify priorities and exercise good judgment. We're looking for a skilled and highly motivated individual who can research, compile, analyze, report and present findings in a clear and concise way.
About Digital Realty
Since the Company's initial public offering in November 2004, Digital Realty has been a fast-growing leader in the design, development and operation of data centers worldwide. We focus on delivering customer driven data center solutions by providing secure, reliable and cost effective facilities that meet each customer's unique data center needs. Our customers include leading media, financial services, communications and technology-based businesses.
Digital Realty's portfolio is located in more than 33 markets throughout North America, Europe, Australia, and Asia. Our global presence is supported by local experts in the markets we serve. And we stand out in the marketplace by offering innovative solutions driven by customers who see data centers not just as a technical investment, but also as a strategic platform for success.
Digital Realty is a publicly traded company (NYSE: DLR) with investment grade ratings from all three major ratings agencies.
Video: take a tour of Digital Ashburn - a Digital Realty Datacampus in Virginia. The tour highlights Building G, our newest data center on campus. Digital Ashburn offers nearly 2 million square feet of data centers located in the second largest data center market in the U.S. The available data centers -- including both dedicated and colocation space -- provide the space and infrastructure to support our clients' critical IT operations and applications.