The Requirements
To be a good fit for this opportunity you will have:
A bachelor's degree in Computer Information Systems, Computer Science, or related field from an accredited college or university, or the equivalent combination of education and experience.
A minimum of three years of prior experience in business intelligence and/or similar field, with emphasis in the areas of designing, building, deploying, and maintaining reporting / application solutions.
Experience and familiarity with the following technologies, systems and techniques:

Extract, transform & load (ETL) Quick question for you - click here
Agile Scrum methodology
SQL Server 2005, 2008 or 2012; including SSIS, SSAS, SSRS
SQL and Multidimensional Expressions (MDX)
Team Foundation Server (TFS) or Visual SourceSafe (VSS)
PerformancePoint Services

Experience working and developing in multiple environments and with a deployment team.
Strong communication skills and the ability to translate complex technical information to a variety of business professionals.
Accountability and trust.
A team player mentality.
A background in data centers, real estate and consulting could all be a strong fit.
The Role
Reporting directly to the BI Architect, you will join a Microsoft-centric BI team consisting of an architect, technical director, developers, analysts, and a project manager. You will be responsible for the end-to-end design and development of BI reports and applications including gathering requirements from the business owners and working with the deployment manager to deploy reports among multiple system environments from development, test, stage, and production.
Quick question for you - click here

You'll work closely with the BI architect to deliver high quality solutions that meet the needs of each business stakeholder. In many instances you will be accountable to take a specification sheet from the BI architect and produce a production level report or application. You'll be involved in virtually all aspects of the development processes, and we'll look to you to troubleshoot and test your reports and applications for performance. This may involve checking the databases, hardware (memory, disks), software utilization, and network performance.
The team follows an Agile Scrum methodology so it is essential that you promote an environment of open communication and actively convey progress, challenges to making progress, and enhancement suggestions. You'll work with a variety of internal contacts including the Project Management Office, QA, and others. We have team members throughout the country and internationally and your ability to successfully collaborate with remote colleagues will be key. Although you'll work a typical Monday-Friday schedule, there may be occasional meetings that are conducted in the evening or early morning to accommodate other time zones.
Why Digital Realty
Professional development
-- your primary focus, of course, will be on application and reports development, but you'll most likely gain experience in areas that are new to you. Your manager places a strong emphasis on employee development and you'll have the opportunity to continuously learn new technical skills and immerse yourself in the latest technologies and tools. We are committed to helping our people grow professionally, including providing training opportunities.
Career options
-- this role can provide you with challenges and fulfillment for years to come. At the same time, if you have the aptitude and ambition, our ongoing growth -- here in San Francisco and in other locations -- will create advancement opportunities for strong performers.
Great environment
-- at Digital Realty you'll join a great team made up of diverse personalities in an easy-going but results-oriented atmosphere. We value transparency and collaboration, and understand the value that each employee brings. Your manager will give you freedom and autonomy while also providing the resources, mentoring and support you need to succeed as a BI Developer.
Green standard for sustainability
-- we are committed to improving the performance and energy efficiency of our data centers through the creation, adoption and promotion of industry-leading best data center practices (pictured). Not only do we build to LEED and BREEAM certification requirements, but we also are pioneers in thinking about green data centers, including being a contributing member of The Green Grid.
Stable profile
-- our financial strength and stability provide our customers with the assurance that Digital Realty will be their data center partner for current data center needs and those in the future. Our investment-grade debt ratings provide us with access to capital to support the growth of our company, provide financing options for our customers, and continually invest in our properties.
Excellent compensation
-- in addition to a competitive salary and bonus potential, we offer a comprehensive benefits package.
Keys to Success
In addition to your technical skills and ability to build solutions from a set of requirements, in order to excel in this role you will be driven and eager to learn new technologies and skills. We're looking for someone who is proactive and can work both independently and as part of a team. You will have the skills to check and document your own work, write queries, check-in code, perform testing, and ensure the application is running correctly. You'll work to reduce development time and work estimates and stay within the budget throughout each project.

You will have access to the latest development tools to support the company's internal and external business needs—continuous learning and skill development is a priority here. You'll need to have a positive, fun-loving attitude and a strong work ethic in order to succeed in this dynamic role. We value work/life balance and strive to promote a collaborative and enjoyable work environment.
About Us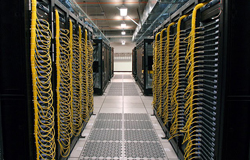 Since the company's initial public offering in November 2004, Digital Realty has been a fast-growing leader in the design, development and operation of data centers worldwide. We focus on delivering customer driven data center solutions by providing secure, reliable and cost effective facilities that meet each customer's unique data center needs.
More than 10% of Fortune's Global 200 companies rely on Digital Realty to provide solutions for their data center requirements. Our customers include domestic and international companies across multiple industry verticals ranging from leading media, financial services and communications companies to technology-based businesses.
Digital Realty's portfolio is located in more than 30 markets across nine countries throughout North America, Europe, Singapore and Australia. Our global presence is supported by local experts in the markets we serve. We stand out in the marketplace by offering innovative solutions driven by customers who see data centers not just as a technical investment, but also as a strategic platform for success.
Digital Realty is a publicly traded company (NYSE: DLR) with investment grade ratings from all three major ratings agencies.