The Requirements
To be a good fit for this opportunity you will have:
Experience in mission critical facilities operating / engineering, including experience with mission critical infrastructure (UPS, HVAC, Generators, Fire/Life Safety Systems).
The ability to:

Comprehend, analyze and interpret complex project documents, including AutoCAD, Visio and PDF documents.
Manage projects effectively. Quick question for you - click here
Develop installation standards and project tracking / management documents.
Respond effectively, verbally and in writing, to sensitive issues, complex inquiries or complaints.
Interact effectively with managers, clients, customers and the general public.

A high level of commitment to customer service to both co-workers and clients.
Preferred but not required:
Electrical, HVAC and / or mechanical licenses.
Experience writing a sequence of operations.
Change management experience.
Experience with incident reporting.
We are hiring for the third shift but training will be held during the first shift and may last 3 to 6 months. Hours will be either 10:30 pm to 7:30 am Tuesday through Saturday or 11:30 pm to 8:30 am Sunday through Thursday (depending on need).
The Role
Reporting to the Property Manager/Chief Engineer you will join a team that incudes seven other Facilities Engineers. The datacenter at 120 East Van Buren is the leading datacenter in the expanding Phoenix metro area, containing over 175,000 square feet of datacenter and telecommunications space within a total of 347,000 square feet. The site can handle more than 30 megawatts of critical load.
Third shift involves making rounds and responding to issues that arise, but you also will contribute to all aspects of overseeing and monitoring the operations of the building including adjustments to the HVAC, Electrical, BMS, Emergency Generators and Fire/Life Safety systems. You'll maintain chilled water and air conditioning equipment, ventilating and other mechanical and electrical equipment. Pivotal to your success will be your ability to troubleshoot and repair equipment and systems independently.
Quick question for you - click here

Your specific activities will include:
Overseeing all building systems and mission critical facilities equipment and other equipment associated with the raised floor environment including mechanical, electrical, emergency generators, fire/life safety systems and associated equipment.
Conducting routine, ongoing assessment of the building systems operations.
Performing tests and rounds, and analyzing data to assure the proper functioning of equipment.
Performing preventive maintenance on all building equipment.
Working on building management programs for a mission critical facilities environment.
Ensuring efficient operation of all building systems.
Assisting, as necessary, with scheduling of preventive maintenance, contracted maintenance and general maintenance with minimum disruption of building services.
Coordinating maintenance efforts, as needed, with outside contractors, tenant finish personnel and engineers.
Maintaining lighting in all areas of the building.
Ensuring compliance with all safety procedures as well as utilization of protective equipment.
Maintaining ongoing communication with tenants, owners, property management and vendors.
Assisting in updating and / or maintaining as-built drawings.
Responding quickly to emergency situations (fire, evacuation, equipment failure etc.) and customer concerns.
Assisting with maintaining inventory control programs / purchasing parts and supplies.
Ensuring compliance with applicable codes, requisitions, government agencies and DLR directives as relates to building operations.
For more information on the Phoenix datacenter, please visit
DigitalRealty.com
Clicking on this link will open a new browser window, but be sure to come back to submit your resume!
Why Digital Realty
Professional development
-- your primary focus, of course, will be on the critical infrastructure, but you'll be responsible for the entire site and most likely you'll gain experience in areas that are new to you. In addition, we are committed to helping our people grow professionally, including providing training opportunities.
Career options
-- this role can provide you with challenges and fulfillment for years to come. At the same time, if you have the aptitude and ambition, our ongoing growth -- here in Phoenix and in other locations -- will create advancement opportunities for strong performers.
Great environment
-- at Digital Realty you'll join a great team made up of diverse personalities in an easy-going but results oriented atmosphere. We value transparency and collaboration, and understand the value that each employee brings.
Green standard for sustainability
-- we are committed to improving the performance and energy efficiency of our data centers through the creation, adoption and promotion of industry-leading best data center practices (pictured). Not only do we build to LEED and BREEAM certification requirements, but we also are pioneers in thinking about green data centers, including being a contributing member of The Green Grid.
Stable profile
-- our financial strength and stability provide our customers with the assurance that Digital Realty will be their data center partner for current data center needs and those in the future. Our investment-grade debt ratings provide us with access to capital to support the growth of our company, provide financing options for our customers, and continually invest in our properties.
Excellent compensation
-- in addition to a competitive salary, we offer a comprehensive benefits package.
Keys to Success
It should be clear by now that this is a hands-on role; you'll need much more in your background than experience with rounds and readings. In addition, to be an outstanding Facilities Engineer, you will:
Achieve goals independently, but also know when to ask for help.
Remain open to learning new things, including the Digital Realty way of doing business.
Be willing to dig in to discover the cause of issues, and be creative in solving them.
Demonstrate a strong sense of ownership and pride in your work.
Bring a commitment to teamwork.
About Digital Realty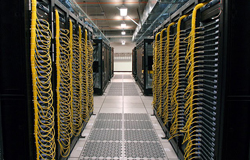 Since the Company's initial public offering in November 2004, Digital Realty Trust, Inc. has been a fast-growing leader in the design, development and operation of data centers worldwide. We focus on delivering customer driven data center solutions by providing secure, reliable and cost effective facilities that meet each customer's unique data center needs. Over 10% of Fortune's Global 200 companies rely on Digital Realty to provide solutions for their data center requirements. Our customers include domestic and international companies across multiple industry verticals ranging from leading media, financial services and communications companies to technology-based businesses.
Digital Realty's portfolio is located in more than 30 markets across nine countries throughout North America, Europe. Singapore and Australia. Our global presence is supported by local experts in the markets we serve. And we stand out in the marketplace by offering innovative solutions driven by customers who see data centers not just as a technical investment, but also as a strategic platform for success.
Digital Realty is a publicly traded company (NYSE: DLR) with investment grade ratings from all three major ratings agencies.