The Requirements
To be a strong fit for the Lead Engineer opportunity, you will have:
An associate's degree (AA/AS) or an equivalent combination of education and experience; data center experience is strongly preferred.
A trade license or certification acquired through technical education/training. Quick question for you - click here
Facilities maintenance certification.
Experience working with mission critical data equipment, and the willingness to work in a fast-paced, mission critical environment. Quick question for you - click here
Excellent computer skills including experience with computerized maintenance management systems (CMMS) and intermediate skill with Microsoft Office Suite programs (e.g Word, Outlook, and Excel).
The ability to develop detailed and precise MOPs and other critical documentation.
Hands-on operational experience. The ability to perform as a level 3 engineer as needed.
Strong HVAC, mechanical and electrical skills and experience; an outstanding mechanical background is preferred.
Strong verbal and written communication skills.
Leadership ability and influencing skills; experience working as a foreman, lead or similar a plus.
Self-initiative and the ability to take ownership of your responsibilities required.
Outstanding organization skills and be highly detail oriented
This is a 1st shift, Tuesday through Saturday position working 7 a.m. to 3 p.m. It may also entail some unscheduled overtime as business needs require (e.g. projects, break-fix repairs, on-call duties, etc.).
​
Pictured: Digital Realty data center Needham, MA.
The Role
The Needham Campus
128 1ST AVENUE
, Needham, MA 02494
Located near the Route 95 and Route 90 interchange, 128 First Avenue is a three-story, purpose-built, premier data center facility with 30 MW of power and 164,000 sq. ft. of raised floor space. Originally built by a telecom company in 2000, this facility has 13 MW of critical IT load that serves a total of 18 customers who are primarily internet based, financial services, and healthcare related companies.
105 CABOT STREET
, Needham, MA 02494
105 Cabot Street is the second mission critical building of our Needham data center campus. This three-story, purpose-built data center facility totals 130,000 sq ft containing approximately 40,000 sq. ft. of raised floor. With 10 MW of redundant utility power, this highly energy efficient building is designed to be concurrently maintainable for all key infrastructure components.
Your Role
Reporting to the Manager, Facility Engineering, as Lead Engineer, you will work a set schedule, but also partner with your supervisor to help ensure site coverage 365 days/year, 7 days/week, 24 hours/day. Campus operations are supported by a team of 8 facilities engineers, including yourself, who provide optimal coverage. The team includes several talented and seasoned level 3 engineers who are facility experts.
While you'll need to have the skill of a hands-on level 3 engineer, this role is unique because up to 80% of your time will be spent managing critical administrative duties. For example, we're improving SOPs by revising MOPs, adding significant detail and ensuring best practices. You will need the full extent of your knowledge to deliver optimized and clear Method of Procedures. You will also work on scheduling, research and data gathering, spreadsheets, reports and more.
In addition to your administrative duties, you will cover a variety of interesting activities, including sharing emergency response duties with your manager, covering shifts for other mechanics, and performing routine duties, such as walking the facility and inspecting infrastructure systems, performing maintenance, assessing needs, monitoring construction projects, and completing repairs as needed. The service you provide will be to the underlying support systems (power, cooling, etc.) for customers' computers, so you will not be expected to do any computer maintenance—the customers do that for themselves. You will contribute to all aspects of overseeing and monitoring the operations of the building, including adjustments to the HVAC, mechanical, electrical, BMS, emergency generators and fire/life safety systems.
Specifically, some of your duties will include:
Researching, reviewing and revising current procedures; creating
Work extensively in our CMMA system
Troubleshooting and repairing building infrastructure systems, HVAC system, electrical systems, etc.
Performing preventive maintenance on all building equipment
Assembling and commissioning Data Center equipment
Preparing Change Management Forms and Methods of Procedure (MOPs)
Scheduling maintenance procedures with vendors
Ensuring compliance with all safety procedures and use of protective equipment
Responding quickly to emergency situations (fire, evacuation, equipment failure, etc.) and customer concerns as needed
Note: this description is intended to give you a general overview of the position and is not an exhaustive listing of duties and responsibilities.
Video: Virtual tour of Digital Realty's data center in Boston, MA.105 Cabot Street is the second mission critical building of the Needham Datacenter Campus.
More Good Reasons
Exciting campus
The infrastructure at the Needham campus is exciting, attractive, interesting, intense... It offers endless chances to learn and the best of both worlds: old school & cutting-edge. If you're looking for challenge and opportunity, we can promise you'll find it in Needham. You'll never be bored!
Great team
We have a great team in place and you'll work for a manager who came up through the ranks and performed your role in the past. There are lots of experts on staff with both tribal and industry knowledge, so you'll have plenty of help getting up to speed. In fact, you'll receive 4 to 6 weeks of outstanding training to help you get started. You'll also gain some leadership experience as you take point on some projects and serve the key contact when the Manager, Facilities Engineering is out.
Ownership and impact
You will play an integral part in daily and long-range operations. You can feel good knowing that your efforts will positively impact the campus and the services we provide.
Professional development
This is a résumé-building role; not only will you gain greater depth of understanding of data center facilities operations, but gain unique expertise through your MOP work. Additionally, we place a strong emphasis on helping people grow and are committed to promoting from within whenever possible. Success in this role could set you up to advance in our growing organization, perhaps stepping up to a manager role. Some opportunities would require relocation.
The "best of both worlds"
You'll find that working for our company may be a little bit different. We are small enough, with only 1400 employees across our global portfolio, that your hard work will be visible throughout the organization. Yet our extensive offering of services and solutions, and proven track record of growth, stability and industry-leading innovation, give you the resources and tools you need to take your career to the next level.
Strong foundation
Our financial strength and stability provide our customers with the assurance that Digital Realty and Telx will be their partner for current data center needs and those in the future, and our investment credit ratings provide us access to paths for more capital. We view each of our customers as a long-term partner.
Green standard for sustainability
At Digital Realty we are committed to improving the performance and energy efficiency of our data centers through the creation, adoption and promotion of industry-leading best data center practices and experience. We are pioneers in thinking about green data centers, as well as, adopting and building to LEED and BREEAM certification requirements. We are also a Contributing Member of The Green Grid.
Excellent compensation
In addition to a competitive wage and discretionary bonus potential, we offer a comprehensive benefits package that includes all you would expect, such as insurances and paid time off, plus some pleasant surprises, like multiple flexible spending plans, a generous company match on the 401(k) plan, and more.
Pictured: While you won't get hands on with the technical assets, you will learn about data center operations, including both the leading-edge telecom/Internet infrastructure (above) and mission critical systems such as cooling (below), power, security and more. Each of our data campuses is part of the largest ecosystem of world-class US, European, and APAC carriers, hosting physical connection points for the world's telecommunications networks and Internet backbones.
Keys to Success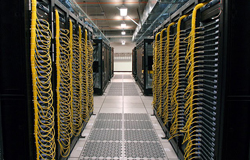 This is a role for a self-starter who will own his/her responsibilities and drive them to make a strong impact. Because we are data driven and working heavily on procedures, you will need to have excellent computer, writing and detail skills. This isn't rote work, but work requiring a thinking, analytical engineer with deep operational knowledge.
To excel in this role, in addition to administrative, mechanical & electrical abilities, you will need an understanding of HVAC, large chillers, diesel generators, cooling towers, UPS systems, large batteries, and more.
Quick question for you - click here

You may be in front of customers, so you'll also need to be professional and have great communication skills.
In addition, to be an outstanding Lead Engineer, you will:
Be self-motivated and passionate about your work
Achieve goals independently, but also know when to ask for help
Remain open to learning new things, including the Digital Realty way of doing business
Be willing to dig in to discover the root cause of issues, and be creative in solving them
Demonstrate a strong sense of ownership and pride in your work
Bring a commitment to teamwork
About Digital Realty
Globally delivering the Right Workload, in the Right Place, at the Right Value℠.
Digital Realty Trust, Inc. supports the data center and colocation strategies of more than 600 firms across its secure, network-rich portfolio of data centers located throughout North America, Europe, Asia and Australia. Digital Realty's clients include domestic and international companies of all sizes, ranging from financial services, cloud and information technology services, to manufacturing, energy, gaming, life sciences and consumer products.
Digital Realty is uniquely positioned to provide a complete range of data center solutions on a global scale that best fit our customers' needs. We can connect them to the cloud and their critical partners on an open platform that includes 156 data centers in 33 global markets on 4 continents.
Digital Realty is a publicly traded company (NYSE: DLR) with investment grade ratings from all three major ratings agencies.
Our Mission
To provide our customers with the trusted foundation for the digital world
Our Vision
To build a network of connected campuses and internet gateways that become the heart of the internet and cloud, powering growth and prosperity for customers, employees and shareholders.
Our Values
Guide our decisions and actions every day -- above all else, we value customers, excellence, talent, teamwork and success.
Digital Realty offers a highly competitive compensation package, excellent benefits, and an environment that recognizes and rewards your contributions.
Digital Realty is an equal opportunity employer, EOE/AA/M/F/Vets/Disabled
Please do not forward unsolicited resumes to any employee of Digital Realty and its subsidiaries. Digital Realty is not responsible for any fees related to unsolicited referrals.