The Requirements
To meet the basic qualification for this role you will have legal authorization to work permanently in the United States for any employer without requiring a visa transfer or visa sponsorship. To be a good fit for the Assistant Real Estate Manager opportunity, you also should have:
A bachelor's degree in Business, Real Estate, or Finance (highly preferred), or an equivalent combination of education and relevant experience. Quick question for you - click here
3 to 5 years of related experience in commercial property management and financial reporting; solid accounting skills and experience are a strong plus.
A strong understanding of financial terms and principles, experience with financial reporting, accruals, and budgeting, and the ability to analyze financial statements.
A proven track record of providing superior customer service.
Computer proficiency, including familiarity with MS Office applications and intermediate Excel skills; experience with MS Project is preferred.
Experience with property management software, ideally Yardi Voyager.
A valid driver's license and insurable driving record.
Strong property / construction accounting experience is preferred.
Just as important as your experience and skills will be the following characteristics and competencies:
Excellent customer facing skills.
The ability to express ideas clearly in written and verbal communications, including the capability to create complex financial and business related documents.
The ability to work in a fast paced, high volume environment.
Strong organizational skills and a detail orientation.
Solid interpersonal skills.
A self-starter mentality and the ability to work with minimal supervision.
You will spend the majority of your time in the office, although you may go to other sites, such as Chantilly, on occasion. We'll provide a smartphone and laptop to monitor and respond to customer tickets and requests when you are off-site.
Video: Take a tour of Digital Ashburn. Strategically located on a 98 acres site in the Dulles technology corridor of Northern Virginia, this property is the latest data center on the Digital Ashburn Campus supporting both Turn-key FlexTM and custom Powered Base Building configurations. The campus is located 10 minutes from Washington Dulles International Airport and adjacent to the future Metro rail station.
The Role
Reporting to the Regional Manager, Portfolio Operations, you will be the sixth member of a strong team including two Real Estate Managers, another Assistant Real Estate Manager, and two Property Assistants. The team covers the entire Ashburn campus and other Digital Realty properties within the Southeast portfolio. You will play a key role supporting operations and financial responsibilities, with a focus on the financial piece. Key activities will include heavy financial reporting, accruals, re-forecasts, budgeting and reconciliations.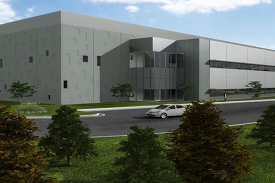 Your responsibilities will also include managing our customer ticketing system and conducting property inspections. You will have a good deal of customer facing activity -- upwards of 50% -- as you perform project and other work, set timeline expectations, help organize tenant events and oversee other special event coordination, and more. More specifically, you will:
Support the planning, budgeting and control of operating and capital expenditures. Quick question for you - click here
Assist in the preparation of annual budgets, forecasts, monthly reports, and variance reports. You'll manage reporting accruals, journal entries, and financial reporting.
Assist with accounts receivable and accounts payable, including collection of rent, accruals, payment of expenses, common area maintenance estimates, true-ups, reconciliations, compliance with lease terms, and preparation of all related documentation.
Respond to customer requests and needs, coordinating efforts between Property Management and Technical Operation teams to resolve the issues.
Oversee selection and performance of vendor services, including preparation of requests for proposal and service agreements; monitor vendor performance against service level agreements.
Schedule and facilitate maintenance with vendors and customers.
Perform property inspections on a regular basis; make recommendations to maintain and enhance the assigned portfolio of properties.
Maintain a strong relationship with the Asset Manager and Technical Operations Team for your assigned portfolio to ensure that all corporate objectives are being met.
Document and track all certificates of insurance from vendors and customers.
Maintain accurate and pertinent information for vendors and customers.
Establish and maintain effective working relationships with internal and external customers and vendors.
Pictured: Strategically located on 98 acres of land in the Dulles technology corridor of Northern Virginia, this property is the seventh data center on the Ashburn Campus supporting both Turn-Key Datacenters and Powered Base Building configurations.
Why Digital Realty
Ownership and impact
You will play an integral part in managing financial and operational aspects of this portfolio, giving you great exposure and visibility. You will work with and learn from a talented group of managers and join a team that works well together.
Professional development
This is a résumé-building role; not only will you learn the data center industry, but you also will expand your experience in diverse areas of accounting and finance. We place a strong emphasis on helping people grow, and are committed to promoting from within whenever possible. Success in this role could set you up to advance to a Real Estate Manager position or follow another path of advancement in our organization.
The "best of both worlds"
You'll find that working for our company may be a little bit different. We are small enough, with only 1400 employees across our global portfolio, that your hard work will be visible throughout the organization. Yet our extensive offering of services and solutions, and proven track record of growth, stability and industry-leading innovation, give you the resources and tools you need to take your career to the next level.
Strong foundation
Our financial strength and stability provide our customers with the assurance that Digital Realty and Telx will be their partner for current data center needs and those in the future, and our investment credit ratings provide us access to paths for more capital. We view each of our customers as a long-term partner.
Premium portfolio
The Ashburn campus is the flagship for Digital Realty's Eastern properties. The portfolio enjoys a good deal visibility and the property count across the campus continues to grow. It's a great place to learn our company and stretch your skills.
Green standard for sustainability
At Digital Realty we are committed to improving the performance and energy efficiency of our data centers through the creation, adoption and promotion of industry-leading best data center practices and experience. We are pioneers in thinking about green data centers, as well as, adopting and building to LEED and BREEAM certification requirements. We are also a Contributing Member of The Green Grid.
Excellent compensation
In addition to a competitive wage and discretionary bonus potential, we offer a comprehensive benefits package that includes all you would expect plus some pleasant surprises, like multiple flexible spending plans, a generous company match on the 401(k) plan, and more.
Pictured: While you won't get hands on with the technical assets, you will learn about data center operations, including both the leading-edge telecom/Internet infrastructure (above) and mission critical systems such as cooling (below), power, security and more. Each of our data campuses is part of the largest ecosystem of world-class US, European, and APAC carriers, hosting physical connection points for the world's telecommunications networks and Internet backbones.
Keys to Success
To excel in this role, you'll need to have an outstanding ability to work under pressure and shift priorities quickly, depending on the current needs of the business. This is a fast-paced environment where you may be called upon to produce a report or work on a new task with a tight deadline. We're looking for a professional who excels in this type of environment, and takes pride in their abilities to work under pressure and multi-task.

Additionally, in order to be an outstanding Assistant Real Estate Manager, you will be a team player, and have an outgoing and adaptable personality. Your manager promotes a collaborative environment where cross-training and knowledge sharing is encouraged. We have a close-knit team, so we're really looking for someone who can come in, and seamlessly become a part of our group. You'll enjoy taking part in our team building events, group lunches and much more.
About Digital Realty
Globally delivering the Right Workload, in the Right Place, at the Right Value℠.
Digital Realty Trust, Inc. supports the data center and colocation strategies of more than 600 firms across its secure, network-rich portfolio of data centers located throughout North America, Europe, Asia and Australia. Digital Realty's clients include domestic and international companies of all sizes, ranging from financial services, cloud and information technology services, to manufacturing, energy, gaming, life sciences and consumer products.
Digital Realty is uniquely positioned to provide a complete range of data center solutions on a global scale that best fit our customers' needs. We can connect them to the cloud and their critical partners on an open platform that includes 156 data centers in 33 global markets on 4 continents.
Digital Realty is a publicly traded company (NYSE: DLR) with investment grade ratings from all three major ratings agencies.
Our Mission
To provide our customers with the trusted foundation for the digital world
Our Vision
To build a network of connected campuses and internet gateways that become the heart of the internet and cloud, powering growth and prosperity for customers, employees and shareholders.
Our Values
Guide our decisions and actions every day -- above all else, we value customers, excellence, talent, teamwork and success.
Digital Realty offers a highly competitive compensation package, excellent benefits, and an environment that recognizes and rewards your contributions.
Digital Realty is an equal opportunity employer, EOE/AA/M/F/Vets/Disabled
Please do not forward unsolicited resumes to any employee of Digital Realty and its subsidiaries. Digital Realty is not responsible for any fees related to unsolicited referrals.