The Requirements
To meet the basic qualification for this role, you will have legal authorization to work permanently in the United States for any employer without requiring a visa transfer or visa sponsorship. In addition, to be a good fit for the Facility Assistant opportunity, you will have:
2+ years of maintenance and repair experience in a commercial facility; experience in data centers or other high-reliability environments is preferred Quick question for you - click here
General facility upkeep and repair skills
Basic carpentry skills
Painting experience
Basic problem-solving skills with technical and organizational skills
A background in carpentry and general building hardware repair (doors, locks, windows, flooring, etc.) is preferred
Familiarity with Microsoft Office applications, particularly Outlook, Word and Excel, is a plus
A valid driver's license and dependable vehicle
Just as important will be the following competencies and characteristics:
Strong written and verbal communication skills in English
Solid organizational skills
A responsible attitude, reliability and strong work ethic
The ability and willingness to respond to emails after hours in the event of an emergency required
Ability to work additional hours as needed
All candidates chosen for consideration must submit to and pass Digital Realty's background check.
Pictured: While you won't focus on the networking side, you will learn about leading-edge telecom/Internet infrastructure, and maintain the mechanical and electrical systems that support that infrastructure.
The Role
As part of the Data Center Operations Team, you will report to the Real Estate Manager, work closely with infrastructure managers, and be responsible for the day-to-day monitoring and upkeep of your assigned facility. You'll work a Monday through Friday day shift, taking ownership of building and grounds repair and maintenance, helping to ensure the highest levels of reliability and availability can be maintained.
Quick question for you - click here

In the morning when you arrive, you will attend the morning meeting and then walk the building looking for disrepair, making notes of what needs to be done and planning accordingly, cleaning up messes, etc., to ensure the facility always looks its best. As necessary you will coordinate with and ensure the quality of work by contractors.
Quick question for you - click here

​
More specifically, you will:
Assist with minor facility modifications
Assist as a security monitor and at times escorting contractors to secured areas
Assist with shipping/receiving and general loading dock activities and operations
Perform a daily walk through of facility and maintain facility logs noting walk through observations
Assist managers with obtaining facility related price quotations and bid proposals
Assist with scheduling repairs and preventative maintenance of general facility equipment and grounds, including but not limited to landscaping, irrigation systems, elevators and lifts, dock levelers, pest control and trash removal
Assist with cleaning and general repairs of the facility
Perform general maintenance tasks, such as light carpentry, light landscaping, changing light bulbs, crating and uncrating equipment, painting, door hardware and adjustments; you'll need to be able to utilize all standard hand tools
Assist the Infrastructure Managers with the maintenance of fire extinguishers and other facility equipment, as needed
Maintain work areas in a neat and safe manner
Organize and file facility documents
Note: this description is intended to give you a general overview of the position and is not an exhaustive listing of duties and responsibilities.
Pictured: Our East Devon data center where you will be seated. You may also support another facility, approximately 9 miles away.
What's in It for You
Impact role
In many ways you will be the eyes and ears of the Operations Team, identifying areas that need attention. Over time you should be able to recognize potential issues
before
they become problems, helping us stay ahead of the curve.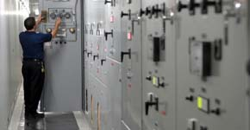 Professional development
Because this is a diverse role, you are bound to expand your skills in a variety of areas, and at Digital Realty, we support professional growth. As you learn our company and operations, you may stretch and take on additional responsibilities or even another facility!
Growth without limits
We merged with DuPont Fabros Technology (DFT), effective in September, accelerating our commitment to provide the most comprehensive set of data center solutions and expertise in the market. We now are able to support deployments ranging from single-cabinet colocation and interconnection to multi-megawatt to hyperscale. The combined company has an equity market cap of approximately $27 billion, and a total enterprise value of over $35 billion.
Intriguing industry
The hyperscale deployments offered by the data centers you'll support are necessary for cloud and big data applications as well as large, distributed websites maintained by some of the biggest names on the Internet
People-focused culture
We are a collaborative, people-focused group dedicated to quality and continuous improvement. When you join us, you receive our commitment to your continued development and support. We strive to promote a friendly, fun and open work environment, and our dedication to this is reflected in the tenure of our employees. People like it here and tend to stay.
Excellent compensation
In addition to a competitive wage and discretionary bonus potential, we offer a comprehensive benefits package that includes all you would expect plus some pleasant surprises, like multiple flexible spending plans, a generous company match on the 401(k) plan, and more.
Pictured: Thanks to dedicated Operations Teams, Digital Realty has achieved "five nines" of uptime performance for the eleventh consecutive year. Exceeding 99.999 percent reliability year after year demonstrates our commitment to resiliency and to serving as a true business partner to all our customers.
Keys to Success
To excel in this role you will bring a strong sense of ownership and the initiative to see what needs to be done and do it. You should be able to achieve goals independently. Help is always available, but if you're the person we're looking for, you understand that working through problems is a great way to learn.
At the same time, you'll need to be a team player, as you will interact with a wide variety of internal and external contacts. We'll look to you to take a customer service approach to those interactions, including actively soliciting feedback to ensure your activities and deliverables meet expectations. In addition, in order to be an outstanding Facility Assistant you will:
Lead by example in attendance, attitude and technical work product
Pay close attention to details and also grasp the bigger picture
Take initiative in digging in to discover the cause of issues, and combine analytical skills and creativity in solving them
Be flexible and willing to perform tasks and duties expected and unexpected with a pleasant and professional attitude
Manage multiple tasks and priorities effectively in a fast-paced environment
Remain open to learning new things, including the Digital Realty way
About Us
Globally delivering the Right Workload, in the Right Place, at the Right Value℠.
Digital Realty Trust, Inc. supports the data center and colocation strategies of more than 600 firms across its secure, network-rich portfolio of data centers located throughout North America, Europe, Asia and Australia. Digital Realty's clients include domestic and international companies of all sizes, ranging from financial services, cloud and information technology services, to manufacturing, energy, gaming, life sciences and consumer products.
Digital Realty is uniquely positioned to provide a complete range of data center solutions on a global scale that best fit our customers' needs. We can connect them to the cloud and their critical partners on an open platform that includes 156 data centers in 33 global markets on 4 continents.
Digital Realty is a publicly traded company (NYSE: DLR) with investment grade ratings from all three major ratings agencies.
Our Mission
To provide our customers with the trusted foundation for the digital world
Our Vision
To build a network of connected campuses and internet gateways that become the heart of the internet and cloud, powering growth and prosperity for customers, employees and shareholders.
Our Values
Guide our decisions and actions every day -- above all else, we value customers, excellence, talent, teamwork and success.
Digital Realty offers a highly competitive compensation package, excellent benefits, and an environment that recognizes and rewards your contributions.
Digital Realty is an equal opportunity employer, EOE/AA/M/F/Vets/Disabled
Please do not forward unsolicited resumes to any employee of Digital Realty and its subsidiaries. Digital Realty is not responsible for any fees related to unsolicited referrals.