The Requirements
To meet the basic qualification for this role you will have legal authorization to work permanently in the United States for any employer without requiring a visa transfer or visa sponsorship. To be a strong fit for the Property Assistant opportunity, you should also have:
2-3 years of related administrative, office and basic finance experience. We will also consider recent grads with the appropriate skills, professional demeanor, and motivation to learn and build a career.
A background in property management; ideally commercial property management. Quick question for you - click here
The ability to understand processes and learn new tools.
Proficiency in Microsoft Word, and Outlook, with intermediate Excel skills (formulas, VLOOKUP, pivot tables, etc.). Quick question for you - click here
Experience with Yardi or similar property management software highly preferred.
Bookkeeping experience (accounts payable, budgeting creating purchase orders, basic general ledger, etc.) preferred.
An associate's or bachelor's degree, ideally in Business, Accounting or similar preferred. Note: some promotional opportunities will require a degree.
Just as important will be the following qualities and characteristics:
A friendly, people-oriented approach and the ability to interact effectively with a variety of internal and external titles and personalities.
Strong organizational skills and a detail-oriented mindset.
Self-motivation and flexibility.
The ability to multitask and manage a variety of activities and priorities.
The ability to express ideas clearly in written and verbal communications in English.
Resourcefulness and the ability to achieve goals independently.
The ability to work both independently and in a team environment.
A strong learning acumen and the drive to expand your skills and knowledge.
Reliability and punctuality.
You will spend the majority of your time in your designated office, although you will visit other offices as needed. In general, you'll work a regular Monday through Friday schedule, although there will be some overtime work as well.
Pictured: 365 S. Randolphville Road, in Piscataway Township is in a strategic and resilient location with proximity to extensive fiber networks. This premier campus setting currently supports and services numerous world-class companies including Fortune 100/500 organizations representing the financial services, healthcare services, education, legal, communications, and IT services industries.
The Role
In this role, you will help support properties in New York.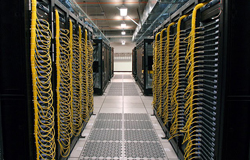 You will take direction from and assist Property Managers, and balance priorities and deadlines to meet the demands of a few facilities. You will handle the majority of the administrative work -- essentially a combination of bookkeeping and office/administrative support -- leaving the Property Managers free to handle capital projects and other demands. You'll invest the larger part of your time supporting accounting and finance activities, including:
Accounts payable, including the creation of POs, payment of expenses, and other related activities.
Monthly and quarterly variances and other reporting.
Monitoring POs and preparing the service agreements, addendums, work letters and other items.
Your activities will include:
Supporting the planning, budgeting and control of operating and capital expenditures.
Assisting in the preparation of annual budgets, forecasts, monthly reports and variance reports.
Assisting with accounts receivable and accounts payable, including the collection of rent, accruals, payment of expenses, common area maintenance estimates, true-ups, reconciliations, compliance with lease terms and preparation of all related documentation.
Responding to customer requests and needs and coordinating with the Property Management Team to assist in resolving issues.
Assisting in the selection and performance of vendor services, including preparation of requests for proposals and service agreements. You'll also monitor vendor performance to ensure compliance and standards established in the service agreement are being met.
Scheduling and facilitating maintenance with vendors and customers.
Documenting and tracking all certificates of insurance from vendors and customers.
Maintaining accurate and pertinent information for vendors and customers.
Preparing correspondence to customers and vendors.
Establishing and maintaining effective working relationships with internal and external customers and vendors.
Maintaining all lease and property related files.
Answering and directing incoming calls.
Opening and distributing incoming mail.
Scheduling and coordinating meetings and customer events.
Conducting site visits to check and stock clerical supplies, etc.
Note: this description is intended to give you a general overview of the position and is not an exhaustive listing of duties and responsibilities.
What's in It for You
Professional development
You'll learn new things in this role given the unique nature of data center management. In fact, we understand that there will be a learning curve, but you'll learn from seasoned industry professionals. You should come in ready and willing to learn and grow your skills.
Career development
We promote from within whenever possible so your success in this role could set you up to pursue promotional opportunities within Digital Realty. Naturally, you'll need to put in a few years in this role, but there are multiple career paths available from this position.
Growth without limits
We merged with DuPont Fabros Technology (DFT), effective in September 2017, accelerating our commitment to provide the most comprehensive set of data center solutions and expertise in the market. We now are able to support deployments ranging from single-cabinet colocation and interconnection to multi-megawatt to hyperscale. The combined company has an equity market cap of approximately $27 billion, and a total enterprise value of over $35 billion.
Green standard for sustainability
We are committed to improving the performance and energy efficiency of our data centers through the creation, adoption and promotion of industry-leading best data center practices and experience. We are pioneers in thinking about green data centers and are also a Contributing Member of The Green Grid.
Excellent compensation
In addition to a competitive wage, overtime opportunities and a discretionary bonus program, we offer a comprehensive benefits package that includes medical, dental and vision plans; flexible spending plans for multiple purposes; a health savings account; a 401(k) plan with company match, and much more.
Pictured: from Dublin (top) to Singapore (bottom), Digital Realty is about removing limits to global business. Through our seamless, interconnected global network we offer more open data center service choices than anyone, including choices around vendors, service partners, network carriers, configurations and locations.
Keys to Success
To excel in this role, you'll need to have an outstanding ability to work under pressure and shift priorities quickly depending on the current needs of the business. This is a fast-paced environment where you may be called upon to produce a report with a tight deadline or set up a meeting on short notice. We're looking for a professional who excels in this type of environment and takes pride in their abilities to work under pressure and multi-task while still paying attention to the fine details.
Additionally, in order to be an outstanding Property Assistant, you will:
Balance priorities effectively between three Real Estate Managers all with their own set of priorities; communicate effectively with the team.
Bring professional maturity and polish to interact with multiple departments, all levels, and with diverse personalities.
Assume ownership of your areas of responsibility, assuring you meet your responsibilities and goals.
Achieve goals independently and also contribute as a team player.
Establish a reputation among team members for being reliable and delivering results.
Take a proactive approach to learning and growing your skills -- an important step toward taking on greater responsibilities. Passion and hunger will take you far here.
About Us
Globally delivering the Right Workload, in the Right Place, at the Right Value℠.
Digital Realty Trust, Inc. supports the data center and colocation strategies of more than 600 firms across its secure, network-rich portfolio of data centers located throughout North America, Europe, Asia and Australia. Digital Realty's clients include domestic and international companies of all sizes, ranging from financial services, cloud and information technology services, to manufacturing, energy, gaming, life sciences and consumer products.
Digital Realty is uniquely positioned to provide a complete range of data center solutions on a global scale that best fit our customers" needs. We can connect them to the cloud and their critical partners on an open platform that includes 156 data centers in 33 global markets on 4 continents.
Digital Realty is a publicly traded company (NYSE: DLR) with investment grade ratings from all three major ratings agencies.
Our Mission
To provide our customers with the trusted foundation for the digital world
Our Vision
To build a network of connected campuses and internet gateways that become the heart of the internet and cloud, powering growth and prosperity for customers, employees and shareholders.
Our Values
Guide our decisions and actions every day -- above all else, we value customers, excellence, talent, teamwork and success.
Digital Realty offers a highly competitive compensation package, excellent benefits, and an environment that recognizes and rewards your contributions.
Digital Realty is an equal opportunity employer, EOE/AA/M/F/Vets/Disabled
Please do not forward unsolicited resumes to any employee of Digital Realty and its subsidiaries. Digital Realty is not responsible for any fees related to unsolicited referrals.