The Requirements
To meet the basic qualification for this position you must have legal authorization to work permanently in the United States for any employer without requiring a visa transfer or visa sponsorship. To be a good fit for the Facilities Maintenance Technician I opportunity, you also should have:
An associate's degree in a technical field or graduation from a trade school; a bachelor's degree is a plus.
0-2 years of experience in a mission critical facility in an operating / engineering / technical role, including some experience with mission critical infrastructure (UPS, HVAC, generators, cooling, fire/life safety systems, BMS). At the very least, you should have a strong mechanical and/or electrical background.
A positive attitude, learning agility, and the mindset and desire to learn the data center industry. Quick question for you - click here
The ability to:

Comprehend, analyze and interpret complex project documents, including AutoCAD, Visio and PDF documents.
Ability to learn and work with Computerized Maintenance Management Software (CMMS) / trouble ticket system.
Experience using MS Office applications (Word, Excel).

A high level of commitment to customer service to both co-workers and clients.
A collaborative, team player mentality.
Strong interpersonal skills, including the ability to interact effectively with managers, clients, customers and vendors.
Excellent verbal and written communication skills.
Preferred but not required:
Data center experience.
Electrical, HVAC and/or mechanical licenses.
Experience writing technical methods of procedure.
Experience with incident reporting.
Maintenance and installation of fire/life safety systems.
HVAC field service or installation.
Electrical field service or installation.
In addition, you will need the flexibility to work any shift. You'll begin training on the day shift (the first 90 days or more), and post-training, will be assigned a shift based on your skill and the needs of the business. Post-training, overtime opportunities may be available.
Quick question for you - click here

Pictured: 111 8th Ave. Uniquely positioned on top of the Hudson Street/Ninth Avenue fiber highway, 111 Eighth Avenue is a premier North American data center. With 109,600 square feet spanning multiple floors, the facility has become a central hub for hundreds of leading carriers, both domestic and international, and provides physical connection points for global telecommunications networks and Internet backbones.
The Role
Reporting to the Manager, Facility Engineering, you will join a talented and growing team covering Digital Realty's expanding New York City portfolio. Pivotal to your success will be your ability to work as a strong team player, while also troubleshooting and repairing equipment and systems independently as needed, and post-training. You should be a strong learner who is eager to expand your skills and take on a variety of duties.
Daily, you will make rounds and respond to issues that arise, but you also will contribute to all aspects of the oversight and monitoring of building operations, including HVAC, electrical, BMS, emergency generators and fire/life safety systems. You will maintain critical cooling equipment, comfort cooling equipment and other mechanical and electrical equipment.
More specifically, your responsibilities will include:
Monitoring and maintaining all building systems and mission critical facilities equipment and other equipment associated with the raised floor environment including mechanical, electrical, emergency generators, fire/life safety systems and associated equipment. Quick question for you - click here
Conducting routine, ongoing assessment of the building systems operations.
Performing tests and rounds, and analyzing data to assure the proper functioning of equipment.
Performing preventive maintenance with all building equipment.
Working with building management programs for a mission-critical facilities environment.
Ensuring the efficient operation of all building systems.
Assisting, as necessary, with the scheduling of preventive maintenance, contracted maintenance and general maintenance with minimum disruption of building services.
Coordinating maintenance efforts, as needed, with outside contractors, tenant personnel and engineers.
Maintaining lighting, plumbing, and doors in all areas of the building.
Ensuring compliance with all safety procedures as well as the utilization of protective equipment.
Maintaining ongoing communication with tenants, owners, property management and vendors.
Assisting in updating and/or maintaining as-built drawings.
Responding quickly to emergency situations (fire, evacuation, equipment failure etc.) and customer concerns.
Assisting with maintaining inventory control programs / purchasing parts and supplies.
Ensuring compliance with applicable codes, requisitions, government agencies and company directives as they relate to building operations.
Note: this description is intended to give you a general overview of the position and is not an exhaustive listing of duties and responsibilities.
More Good Reasons
Professional development
Your primary focus, of course, will be on the critical infrastructure, but you'll share responsibility for the entire site and will gain experience in areas that are new to you. In addition, we are committed to helping our people grow professionally, including providing initial (the first 90 days+) and ongoing training opportunities.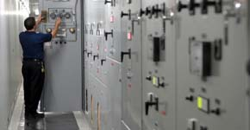 Career options
If you're driven to excel and further advance your career, success in this position could set you up to pursue a Facilities Engineer II then III role and beyond. If you have the drive and desire, the sky is the limit. Some opportunities will require a degree.
The "best of both worlds"
You'll find that working for our company may be a little bit different. We are small enough, with only 1600 employees across our global portfolio, that your hard work will be visible throughout the organization, yet our extensive offering of services and solutions and proven track record of growth; stability and industry-leading innovation give you the resources and tools you need to take your career to the next level.
Unique culture
We are a collaborative, people-focused company dedicated to quality and continuous improvement. When you become a member of our team, you receive our commitment to your continued development and support.
Growth without limits
We merged with DuPont Fabros Technology (DFT), effective in September, accelerating our commitment to provide the most comprehensive set of data center solutions and expertise in the market. We now are able to support deployments ranging from single-cabinet colocation and interconnection to multi-megawatt to hyperscale. The combined company has an equity market cap of approximately $27 billion, and a total enterprise value of over $35 billion.
Green standard for sustainability
At Digital Realty we are committed to improving the performance and energy efficiency of our data centers through the creation, adoption and promotion of industry-leading best data center practices and experience. We are pioneers in thinking about green data centers, as well as, adopting and building to LEED and BREEAM certification requirements. We are also a Contributing Member of The Green Grid.
Excellent compensation
In addition to a competitive wage and discretionary bonus potential, we offer a comprehensive benefits package that includes multiple flexible spending plans, a generous company match on the 401(k) plan, and more.
Keys to Success
To excel in this role you will grasp the important role played by the equipment and infrastructure in the data center, and the critical role played by the data center in our customers' businesses. Billions and even trillions of dollars are transacted over the networks we support. Downtime of even a few minutes can cost millions. Digital Realty has achieved key metrics in uptime, in no small part because of the dedication and passion of our Facilities Engineers. To be successful on this team, you'll need to see this as much more than a job -- you'll need to see it as a mission.
It should be clear by now that this is a hands-on role. A combination of strong technical and communication skills are a must. In addition, to be an outstanding Facilities Maintenance Technician I, you will:
Achieve goals independently, but also know when to ask for help.
Remain open to learning new things, including the Digital Realty way of doing business.
Be willing to dig in to discover the cause of issues, and be creative in solving them.
Demonstrate a strong sense of ownership and pride in your work.
Bring a commitment to teamwork.
About Us
Globally delivering the Right Workload, in the Right Place, at the Right Value℠.
Digital Realty Trust, Inc. supports the data center and colocation strategies of more than 600 firms across its secure, network-rich portfolio of data centers located throughout North America, Europe, Asia and Australia. Digital Realty's clients include domestic and international companies of all sizes, ranging from financial services, cloud and information technology services, to manufacturing, energy, gaming, life sciences and consumer products.
Digital Realty is uniquely positioned to provide a complete range of data center solutions on a global scale that best fit our customers" needs. We can connect them to the cloud and their critical partners on an open platform that includes 156 data centers in 33 global markets on 4 continents.
Digital Realty is a publicly traded company (NYSE: DLR) with investment grade ratings from all three major ratings agencies.
Our Mission
To provide our customers with the trusted foundation for the digital world
Our Vision
To build a network of connected campuses and internet gateways that become the heart of the internet and cloud, powering growth and prosperity for customers, employees and shareholders.
Our Values
Guide our decisions and actions every day -- above all else, we value customers, excellence, talent, teamwork and success.
Digital Realty offers a highly competitive compensation package, excellent benefits, and an environment that recognizes and rewards your contributions.
Digital Realty is an equal opportunity employer, EOE/AA/M/F/Vets/Disabled
Please do not forward unsolicited resumes to any employee of Digital Realty and its subsidiaries. Digital Realty is not responsible for any fees related to unsolicited referrals.